Voting with Optical Scan Voting Machines
English | 中文 | Español | Filipino
San Francisco voters use an optical scan voting machine to cast their ballots at the polling place. This machine is a paper-based voting system that optically scans the marks that you make on your paper ballot and counts the votes electronically when the ballot is inserted.
Marking Your Ballot
After you sign your name on the roster of voters, the pollworker will give you a paper ballot and ballot stub in a blue secrecy folder. The ballot may consist of multiple cards and may have contests on both sides of the cards.
Using the ballot-marking pen provided, mark the ballot by completing the arrow pointing to your choice for each contest or measure, as shown in the picture.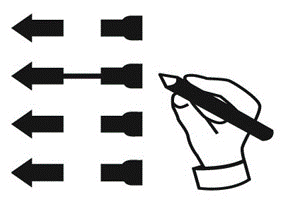 Carefully read and follow the instructions printed on your ballot. The number of candidates you may select for each contest will be printed above the list of candidate names. If you vote for more than the allowed number of choices for any contest or measure, your vote for that contest cannot be counted.
Write-In Candidates
To vote for a qualified write-in candidate who is not listed on the ballot, write the person's name on the blank line at the end of the candidate list and complete the arrow. You MUST complete the arrow for your write-in vote to be counted.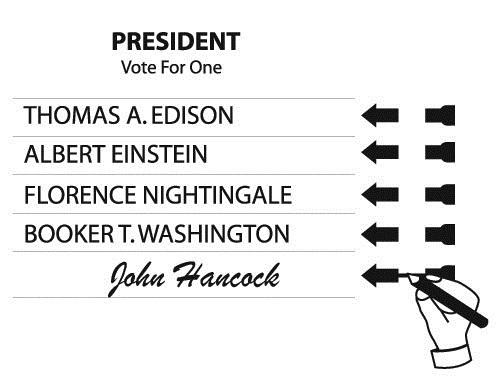 REMEMBER: Only write-in votes for qualified write-in candidates can be counted. A list of qualified write-in candidates will be available at the polling place. Vote-By-Mail voters may access the list of qualified write-in candidates at sfelections.org or call the Department of Elections at (415)554-4375 within two weeks from the election.
After You Have Marked Your Ballot
Insert your ballot cards one at a time into the slot in the front of the machine. Make sure that the stub has been removed from the top of each ballot card. The ballot card can be inserted into the machine in any direction (orientation does not matter).
When you insert the ballot cards, the machine will count your votes electronically. The ballot cards are stored in a locked compartment inside the machine and are collected at the end of the day when the polls close.
If you make a mistake while voting, you can request another ballot from the pollworker. You may request up to two replacement sets of ballots.
Voting with the Accessible Voting Machine
For information about accessible voting, see Voting with the Accessible Voting Machine.
Ranked-Choice Voting
For information about how to mark a ranked-choice contest's three-column ballot, see Ranked Choice Voting.