Registration for Special Circumstances

The Department of Elections strives to ensure every eligible San Francisco resident has the opportunity to register and vote. If any of these circumstances apply to you, read on for important information. For more information, contact us through our contact form or call (415) 554-4375.
Military and Overseas Voters
You can qualify as a Military or Overseas voter if you are eligible to vote in California, absent from the county in which you are eligible to vote, and you are:
A member of the active or reserve components of the United States Army, Navy, Air Force, Marine Corps, or Coast Guard; a Merchant Marine; a member of the United States Public Health Service Commissioned Corps; a member of the National Oceanic and Atmospheric Administration Commissioned Corps of the United States; or a member on activated status of the National Guard or state militia
A spouse or dependent of a person described above; or
A U.S. citizen living outside of the territorial limits of the United States
For information on how to apply and options to receive and return your ballot, visit our Military and Overseas Voters page.
Conditional Voter Registration for Military and Overseas Voters and Voters with Disabilities
Per new law, military and overseas voters and local voters with disabilities who miss the regular registration deadline and who are unable to vote in person now have the option to register online after the deadline and access their ballots using the accessible vote-by-mail (AVBM) system. This process is available up through Election Day and involves four steps:
Contact the Department of Elections to request access to the AVBM system (i.e., a link to an online ballot) at (415) 554-4375, TTY (415) 554-4386, or send an email to SFVote@sfgov.org.
Receive an email from the Department of Elections with a link to your AVBM ballot.
Following the online instructions, mark your ballot, print it out, and return it by mail, in person, or through an authorized third party no later than Election Day.
For more information about your voting options in the upcoming election, please call (415) 554-4375, TTY (415) 554-4386, or send an email to SFVote@sfgov.org.
Voters without a Fixed Address
San Francisco residents who do not have a fixed address can register to vote by describing where they live in Section 4 of the Voter Registration Application, "The address where you live."
When filling out the application, you must provide an exact location, such as intersecting cross-streets, a park, or local landmark, that is clear enough for the Department to establish your right to vote in a particular precinct.
To receive elections materials by mail, including the official ballot, complete Section 5 of the application, "The address where you receive mail".

Example: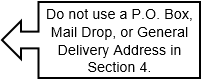 Voter Registration Applications are available at the Department's office in City Hall, Room 48, public libraries, and local post offices. To receive an application by mail, contact the Department.
Voters with Criminal Convictions
California law allows people with a criminal history to register and vote. In addition to standard qualifications to register, there are specific conditions related to voting with a criminal conviction.
Do you have a criminal conviction? Take this short quiz to determine if you are eligible to vote!
You can register and vote if you:
Are in county jail:

Serving a misdemeanor sentence
Serving a felony jail sentence
Serving time as a condition of probation for a misdemeanor or felony conviction
Awaiting trial

Are on probation
Are on parole
Are on mandatory supervision
Are on post-release community supervision
Are on federal supervised release
Previously received a juvenile wardship adjudication
If you or someone you know is detained in a San Francisco County jail and meets any of the conditions listed above, contact Prisoner Legal Services to learn more about voting options.
 Prisoner Legal Services
(415) 558-2472
You cannot register or vote if you are:
Imprisoned in:

State prison
Federal prison

Currently serving a state prison felony sentence in a county jail or other correctional facility
Voters in College
The residential address where you are registered determines which contests and candidates appear on your ballot.
If you attend school away from home, you have the option to register to vote in either the county where you attend school or the county in which you permanently reside; you may not register to vote in both counties.
If you choose to vote by mail, you may provide a mailing address that is different from your residential address where you wish to receive your ballot and official election materials.
Confidential Voters
If you face certain life-threatening situations, you may qualify for confidential voter status. For information, visit the Safe at Home page on the Secretary of State's website.
New Citizen Voters
If you are a new citizen of the United States and you live in San Francisco, you can register to vote online or submit a paper Voter Registration Form. Visit the Registration Basics page.
If you become a citizen after the registration deadline for an election, you may register and vote at the Department of Elections' office in City Hall, Room 48, until 8 p.m. on Election Day. Visit the Vote at a Voting Center page.
Non-citizen Voters (Board of Education Elections)
In the November 8, 2016, Consolidated General Election, San Francisco voters approved Proposition N: Non-Citizen Voting in School Board Elections by a vote of 54% to 46%.
Proposition N is a Charter amendment that extends the voting rights in San Francisco School Board elections to non-citizen residents of San Francisco who are of legal voting age, not in prison for a felony conviction, and who are parents, legal guardians, or legally recognized caregivers of children under the age of 19 living in San Francisco.
To learn more, visit the Non-Citizen Registration and Voting page and contact the Department of Elections with any questions.
Voters who Miss the Registration Deadline
If you missed the deadline to register to vote, it's not too late!
Conditional Voter Registration (CVR), which became operative on January 1, 2017, extends the existing 15-day registration deadline in California to eligible voters. During the 14 days prior to and including Election Day, San Franciscans who missed the registration deadline can visit a voting center or polling place to register and cast a provisional CVR ballot. For more information, visit our Conditional Voter Registration and Provisional Voting page.